What about vegan chocolate?
What is vegan/plant-based chocolate?
Vegan chocolate is any chocolate that is made without ingredients that come from animals (Milk,butter, honey…)
Some of the best vegan/plant based chocolate I have tried (Alphabetic order)
They have a multitude of flavours that you can find on their website: www.cheekynilla.com
Saving the planet one packaging at a time
Their unique 'plastic' packaging is 100% biodegradable and recyclable. Manufactured by NatureFlex™, NatureFlex™ uses films that are based strongly on renewable resources. Most renewable bioplastics come from materials such as corn, potatoes or wheat. However, NatureFlex™ films are based on cellulose. Cellulose is one of the most naturally abundant organic material.
This cellulose is derived from renewable wood pulp that is sustainably harvested from FSC managed forests. NatureFlex™ films are certified ASTM D6400 for bio-based content, and depending on the grade of film, the bio-based content can vary from 90% to 99%.
NatureFlex™ films are fully certified to the American (ASTM D6400) and European (EN13432) norms for 100% compostable packaging. Proven to be suitable for home composting, they are also marine degradable.
Their original flavours can be found at www.discoverchocolate.co.uk
One of the stand out features on Discover chocolate bars labels is a small nut shaped area on the front of our bar with the text 'No Palm Oil' inside. Although Discover is mainly marketed on its lack of sugar and its stevia sweetener it is very important to the team that we do not use Palm oil in our chocolate.
Palm oil is a type of edible vegetable oil that comes from Palm fruit, which is grown on the African Palm oil tree. Growing palm oil tree's is not restricted to Africa, in recent times the Palm oil tree is grown in Asia and South and North America as well as of course Africa. The issue is that to grow Palm oil trees you needs lots of space to get this space many countries such as Indonesia have committed huge amounts of deforestation.
The Orangutan has become an icon for the anti-palm oil movement. In the last 20 years over 90% of the habitat for these creatures has been destroyed, the UN now considers this a conservation emergency. It is suggested that over 50,000 of these creatures have already been destroyed as a result of palm oil production. They do not simply die off aswell, they have been found buried alive, shot and even in some cases killed with machetes by poachers.
The palm oil industry also has devastating effects for the indigenous people. Although they are promised jobs and money the reality is often somewhat different. The Palm oil industry has been seen using child labour extensively and making rural communities far worse off financially as well as destroying their livelihoods.
Unfortunately Palm oil is now widely used in a huge range of products. To make it worse it may not even be written on the ingredients as it can be called vegetable oil. Although it doesn't affect the taste of chocolate a lot of chocolate companies use Palm oil, even though they claim to be ethical and use Fairtrade cocoa. Palm oil is cheaper than cocoa butter and contains fewer calories; however at Discover we strongly believe we should not compromise our ethics for cost, which is why none of our bars contain palm oil.
The king Monty range can be found at www.kingmonty.com
Dairy-free and gluten-free chocolate with a generous taste. their chocolate is 100% vegetable — the ultimate pleasure for vegans. At the very least as delicious, not to mention a lot healthier and kind to Mother Nature. Go on, help yourself to a bar. You know you want to.
The 15th century, somewhere deep in the jungles of Central America. Seated on a mountain, with a view of his Kingdom, we find Montezuma — Monty for his friends — King of the Aztecs and unofficial Emperor of chocolate. Monty sips some fifty cups a day, and when the need is high, he even bathes in the medicinal benefits of what he and his friends called Xocolatl. At that time no bars with nuts, no: chocolate was a precious good brewed from Holy beans. Hot chocolate avant la lettre, if you want.
Meet conquistador Cortes, a man with grand plans of conquest. He was that impressed by the nectar that he decided to take the colorful beans home, across the ocean to Spain. But his countrymen, sweet tooths as they were, found nothing in the bitter broth. They added vanilla and sugar, left the strong herbs for what they were et voilà: du chocolat!
In no time, the entire Mexican Coast region was filled with cocoa plantations and the Spanish could hardly keep up with the incoming gold pieces earned by this profitable business. Chocolate was the new favorite delicacy of the Spanish aristocracy and soon found its way to others of blue blood, spread across the continent.
About half a dozen centuries later the search for the best chocolate has not yet come to an end. Or has it? In his laboratory located in the heart of Ghent doctor Van Laethem has been experimenting with gourmet chocolate for years. The apex for a doctor with chocolatier-aspirations? The creation of a chocolate bar where you sink your teeth into without having to feel guilty. Filled with love and the best of cocoa, minus the problems that lactose intolerance or gluten allergies involve. Divine!
Website: https://momoscbd.com
Their organic cacao comes from a Co-Op in the San Martin region of Peru which is made up of a collective of small farms.
They are contributing to their livelihood and keeping the origins of Peruvian Cacao thriving makes our product more impactful than they could have imagined when they set out to make a bar that not only tasted amazing but could also play a key supporting role for its producers.
Their CBD is coming from a collaboration with a US-based brand; Colorado-proud Full Spectrum Hemp CBD that is Phytocannabinoid-rich and has lab tested levels of 0.0% thc
They are also fully and vertically integrated, Non-GMO and Eco-Friendly.
You can taste the balanced subtle CBD sweetness when you take your first BLISS-full bite, without overpowering the cacao.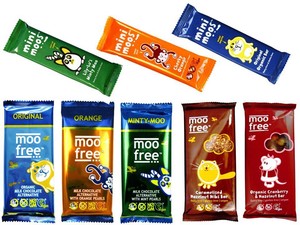 Website: https://www.moofreechocolates.com/
MOO FREE'S ETHICAL POLICY
All aspects of their business are based on the highest ethical standards. This is a core principle of their company. An outline of some of the ways that they implement their ethical principles are outlined below.
THE ENVIRONMENT
Making chocolate can be very messy, but they make sure that none of that waste goes to landfill. They recycle everything that they can and ensure that what cannot be recycled is used for other environmentally friendly purposes such as zero carbon emission energy generation.
Mr Popple's raw chocolate bars are made entirely by hand, which Mr Popple believes creates nutrionally superior chocolate as there is no over-refining. The raw cacao is kept at a low temperature as this preserves the beneficial enzymes that are normally broken down by high temperature roasting. Making the raw chocolate by hand allows Mr Popple to incorporate his secret chocolate making technique.
Mr Popple sweetens his raw chocolate with Yacon Syrup (88% bar) and a mix of Coconut Nectar and Coconut Sugar (all other bars). Yacon Syrup is extracted from a Peruvian tuber that is refreshingly sweet and juicy, and the Coconut Nectar & Sugar is extracted from the sap of the Coconut tree.

They are all low GI (Glycemic Index) sweeteners – which means that your body will release the energy slowly, so you will not get the sugar crash that is associated with most chocolate.

Coconut Nectar & Sugar have a GI of 35 – half that of table sugar – whilst Yacon Syrup has a GI of just 1!
Coconut Sugar & Nectar contain m
any trace vitamins & minerals such as vitamin C, potassium, phosphorous, magnesium, calcium, zinc, iron and copper, as well as small amounts of phytonutrients, such as polyphenols, flavonoids and anthocyanidin, and antioxidants, and the B vitamin inositol, often used as a mood booster.
Ethical
Producing from Tree to Bar in Ecuador
Pacari chocolate is produced and packaged in Ecuador, a country where cacao beans actually grow. In contrast, 'Bean to Bar' chocolate is where cacao beans are imported from developing countries with the rest of the production taking place in the UK or other non cacao growing countries. When chocolate is produced from 'Tree to Bar' this allows over 50% of the wealth to stay in the country of origin and contribute to its development. With 'Bean to Bar' chocolate, typically less than 7% remains in the country.
Supporting Local Farmers and Communities
Pacari supports 3500 families in Ecuador. Pacari supports local farmers by working with them directly, not with middle men. We pay these farmers a significant premium over market prices to ensure they are fairly compensated for their products and hard work. Pacari also supports the local economy in other ways by creating job opportunities beyond farming such as technicians, designers, chocolatiers and sales and shop staff.
Protecting Nature
Pacari only uses ingredients that are 100% certified organic. This means that no pesticides, harmful fertilisers or genetically modified products were used in any part of the supply chain. Pacari is also one of the only chocolate companies with the Demeter Biodynamic Certification. This is awarded when material production takes place in an auto-regenerative ecosystem free from chemicals, pesticides and fertilizers, maintaining an ecological balance between animals, insects, soil, plants and humans and protecting biodiversity.
Recycling to reduce waste
In addition to this, most of our packaging is 100% recyclable. Our chocolate bars are wrapped in recyclable aluminium foil (inner packaging) and cardboard (outer packaging). By June 2019 all the postal packaging used by Pacari UK would be plastic free, recyclable and compostable.
Healthy
Suitable for All
All Pacari products are nut free, soy free, gluten free, dairy free, palm oil free, free from any other artificial products, vegan and kosher certified. We really are committed to making our chocolate available to everyone.
High Cacao Content
High cacao content chocolate has a number of health benefits. Firstly, raw cacao is regarded as a superfood in its own right as it contains important vitamins and minerals including magnesium, flavanoids with antioxidant properties, vitamins B1, B2, B3, B5, B9 and E, essential fats, protein and fibre. This can lower blood pressure, improve circulation, promote cardiovascular function and health, neutralise free radicals and improve physical and mental wellbeing.
Unrefined or Coconut Sugar
Pacari only uses unrefined or coconut sugar. Both types of sugar maintain the sugar's natural minerals and nutrients including phosphorous, calcium, iron, magnesium and potassium, and avoid processing chemicals such as phosphoric acid, sulphur dioxide and formic acid.
Infusion of Super Foods
Pacari also incorporates a variety of other superfoods into our chocolate including blueberries, cranberries maca, spirulina and chia seeds. Each of these has its own assortment of health benefits but most contain high quantities of vitamins, minerals and antioxidants.
Website: https://www.plamilfoods.co.uk
Plamil makes a wide range of Award winning products.
Plamil chocolate is almost 'guilt free indulgence'. With our range of So free chocolate together with our dairy free, organic, and no added sugar chocolate bars, and scrumptious organic chocolate spread there's truly something for everyone's taste.
Ingredients
Knowing what a product contains or does not contain is fundamental requirement of making a product to the highest standard, as this is a good indicator of real care and commitment from the field to our factory gate. Sourcing from farm co-ops together with strict purchasing controls is an example of what we do to produce products of the highest standards.
Many ingredients are organic or fairtrade and they treat all their suppliers, as they'd expect to be treated ourselves. Everyone including those with most allergies, vegetarians/vegans or with specific religious requirements can enjoy all products.
There are no hidden ingredients or processing aids with our products. The ingredients on the label are what you get, nothing more. Check out the detailed product information on this site, available where you see the info symbol , for ingredients, allergy info and typical nutritional data.
They have a multitude of original flsvours you can fing them on https://instagram.com @vegancgocolatier
Their chocolate are so delicious and luxurious quality at a really affordable prices.
Website: https://www.whitakerschocolates.com
Whitakers Chocolates' products are officially suitable for Vegans after being successfully registered by the Vegan Society.
This means that consumers can enjoy their dark fondant creams, wafers, chocolate bars and honeycomb bites in complete confidence, with the knowledge they do not involve or contain animal-derived ingredients.
Whitakers Chocolates, who already hold the highest attainable BRC accreditation (AA+) for quality, safety and legality, were focussed on ensuring their manufacturing processes aligned with the requirements set by the Vegan Society.
William Whitaker, managing director of Whitakers Chocolates explains:
"As the world of food evolves it is important that as a food manufacturer, we embrace it whether the change is due to health, the environment or personal choice. We offer a wide range of confectionery products and through constant development we want to ensure they are available for everyone to enjoy. We're delighted to be able to offer consumers a vegan range and look forward to growing more products within this sector."
Whitakers Chocolates' products are already suitable for vegetarians so to be able to serve the Vegan market is a huge accolade for this Yorkshire based company and is sure to be one to watch for the future.
Did you try any of them?